There's another Beautiful Books linkup going this month! Normally
Cait
and
Sky
do 'Beautiful People' - questions about your characters - but around NaNoWriMo they change it to questions about your NaNo story. Last month's linkup,
Part 1
, was to introduce your NaNo story to the blogging world. I skipped it, though, because I had
Julian
's whole
WIP Special
to introduce my story with.
But
Part 2 of the Beautiful Books linkup
is a sort of NaNo update.
So, since I am all about
ignoring my responsibilities and NaNo in particular
accountability
and
boring you to death with abundant but insignificant details of my writing life
keeping you up to date with my progress
, I thought I'd take the questions this time.
Why are you even here you should be writing.
1. Overall, how is your mental state, and how is your novel going?
HAHAHAHAAA
I'm a much slower writer than everyone else seems to be. On the bright side, I spent a few days thinking, and ended up with a few pages of plot! Like, two whole pages! Or one and a half. But it's definitely helped me write more... decisively. Because I now have an idea of what I'm aiming for.
(Did you think that because I don't plot, my brain isn't screaming, "PLOT, YOU FOOL"?)
(Because it is. It is
screaming
.)
2. What's your first sentence (or paragraph)?
Wellll, I kind of...
didn't
start a new first draft?
Which you all knew already.
So apparently I'm a rebel.
Here's the first paragraph[ish] of what I wrote on November 1st:
His jaw snapped shut. "Fine," he said, voice tense. "Sorry for interrupting your perfect life. Sorry for thinking you might want help. Sorry for opening my mouth."

He abruptly turned and strode out, bellowing to his men from the hallway.
(I left things in the middle of a tense scene last time.)
3. Who's your current favourite character in your novel?
Wha-
you want me to play favourites with my babies??
Riiight this instant, my favourite is probably Rowan. He's going to enter the scene I'm currently writing soon, and I'm looking forward to it. BUT, favourites change depending on what I'm writing and what new thing I've discovered about my story and what I feel like at the time.
4. What do you love about your novel so far?
The characters. And making them misunderstand each other and the conflict that ensues.
Also the aesthetics, which are even almost making it onto the page??
5. Have you made any hilarious typos or other mistakes?
I know some people just
write
during NaNo - not even stopping to fix typos - but I
cannot do that
. Aaargh no no nope. Part of the reason I'm not so great at sprints, I guess. I need to loosen up :/
Mistakes, on the other hand? A heap of general plot holes - that come from
not having a clue where I'm going
except maybe a vague idea. Characters changing how they talk/think/act, characters who leave the scene but I need them to be there later on, characters just plain giving 'but plot' as an excuse when questioned by other characters.
6. What is your favourite to write: beginning, middle, or end — and why?
I'm... actually not sure? When I start at the beginning, I have a tendency to write fluff and never get around to the important bits; I worry about not getting enough content to fill a whole middle
(but I've decided middles are a conspiracy to make young writers suffer, so there's that)
, and endings - well, I'm still not sure what the ending is??
7. What are your writing habits? Is there a specific snack you eat? Do you listen to music? What time of day do you write best? Feel free to show us a picture of your writing space!
My writing habits:
Ignore writing until after dinner and then try to write 1000 words before my parents chase me off to bed.
Get up the next morning and sit at my laptop, swearing to do things differently.
Do things exactly the same.
I don't eat - my mother raised us to not be snackers - and I generally write best when I'm not listening to any music, even instrumental.
8. How private are you about your novel while you're writing? Do you need a cheer squad or do you work alone (like, ahem, Batman)?
Except on my blog, I do not share my writing
at all.
Sister 1 reads my blog to find out what I'm writing. I do not talk about
any
details of my writing in person. I can't even write if someone else is in my room. I work alone.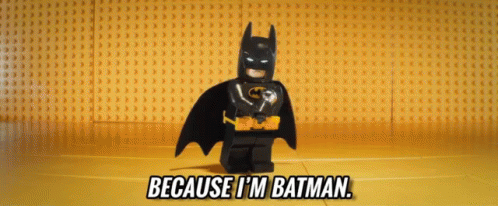 [I believe I've ranted before on how Batman actually works with the biggest superhero family ever?? so I won't do it again. Unless you want me to. I'll totally do it if you want me to. :P]
9. What keeps you writing even when it's hard?
The knowledge that, if I don't finish this thing, I won't be able to read it. Why though.
10. What are your top 3 pieces of writing advice?
Just about everyone else is more qualified to give writing advice than I am, so I'll go with "top 3 pieces of writing advice yOU REALLY SHOULD TAKE, JEM. SERIOUSLY."
Prioritize your writing. Take it seriously. Do not wander Pinterest or YouTube X-Men clips or the Babylon Bee or the general internet when you are supposed to be writing. No. BAD. BAD JEM.
You can edit anything except a blank page. It doesn't have to be perfect first time. A plot would be nice, but is, apparently, not required.
Write. Write. wRITE. WHY ARE YOU HERE. GO WRITE.
How's your project going? Is there screaming and/or fire? If not, tell me your secrets! What's your word count? Out of idle curiosity, what's the body count?

(mine is zero, if you were wondering, but I'm going to have to get tougher soon.)

Have you made some typos that made you laugh?

(I just wrote it 'tpyos'... *headdesk*)

Do you write better at night or in the morning? What writing advice do you know you should take... but don't?

And did you know there's animated bloopers for The Lego Batman movie?